WHERE IT ALL BEGAN...
Inspired by the way his Cypriot mother Lefki made halloumi cheese, Michael Matsis decided to research the art of cheese making. With a Food Technologist degree under his belt and years of perfecting the art of cheese-making, including installing a VAT machine outside his sister Meropi's Wellington house, Michael's dream became a reality in 2000 when he started up the Zany Zeus business with the support of his family.
Initially Michael focused on introducing a traditional Cypriot halloumi cheese to the New Zealand market which was relatively unknown at the time – and it wasn't long before the awards began rolling in and Zany Zeus cheeses, including halloumi and feta became a well loved and recognised brand in the hospitality industry.
In 2003 Zany Zeus upgraded its processing facility to include a HTST Pasteurisation System complete with homogeniser, separator and bottling plant. Zany Zeus then began to process organic milk under the ZORGANIC brand.
For the past 20 years the company has supplied cheese, organic milk, cream and cultured products (mascarpone, sour cream, crème fraiche, cream cheese and yoghurt) to hundreds of cafes and restaurants, predominately in the Wellington region.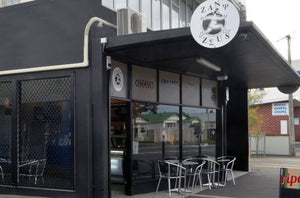 OPENING OF THE ZANY ZEUS SHOP
Following increasing demand from customers wanting to buy retail sized Zany Zeus products (including several door knocking attempts by Zany Zeus fans on the factory door!), Michael and Meropi decided to open their first ever retail store in Moera, Lower Hutt, just up the road from the milk and cheese factory in March 2012.
The entire Zany Zeus cheese range is available to purchase in store including its well-known cultured products – crème fraiche, mascarpone, cream cheese and sour cream; all of which are sold in retail sized packages.
Exclusive to the store is a Zany Zeus smoked cheese range which includes smoked brinza, smoked ricotta as well as smoked yoghurt - the first 'yoghurt' of its kind available in New Zealand.
The store is temporarily closed.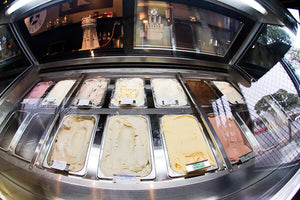 PREMIUM ICE CREAM
But wait, it only gets better!
At Zany Zeus, we now make our own premium ice cream using fresh organic milk and organic cream, available exclusively in-store. There's a unique range of flavours to try including cookies and cream, monkey poo, Greek yoghurt lemon curd, feijoa, chocolate rough, Ghana chocolate and many more. And if you are in the store on the right day, you can watch through a glass window as Michael and his team make fresh batches of delicious ice cream.
ZORGANIC
Zany Zeus believes organic milk and cream products (branded ZORGANIC) should be affordable. We've been successful largely because, after gaining traction with the business, we expanded the factory and invested in our own milk processing plant. As demand grew, we began working closely with Marphona Farms (the largest independently owned organic dairy farm in Australasia) and other organic farms to source our organic milk.
For years we have been selling ZORGANIC organic milk not only because it tastes like milk should – fresh, sweet, creamy and not overly processed – but because there is a huge demand for it from consumers, particularly in the hospitality industry.
Our ZORGANIC organic milk is the preferred milk of many Wellington baristas. Zany Zeus currently supplies standard and low fat organic milk and cream to the wider Wellington region where demand from coffee makers and coffee lovers continues to grow.